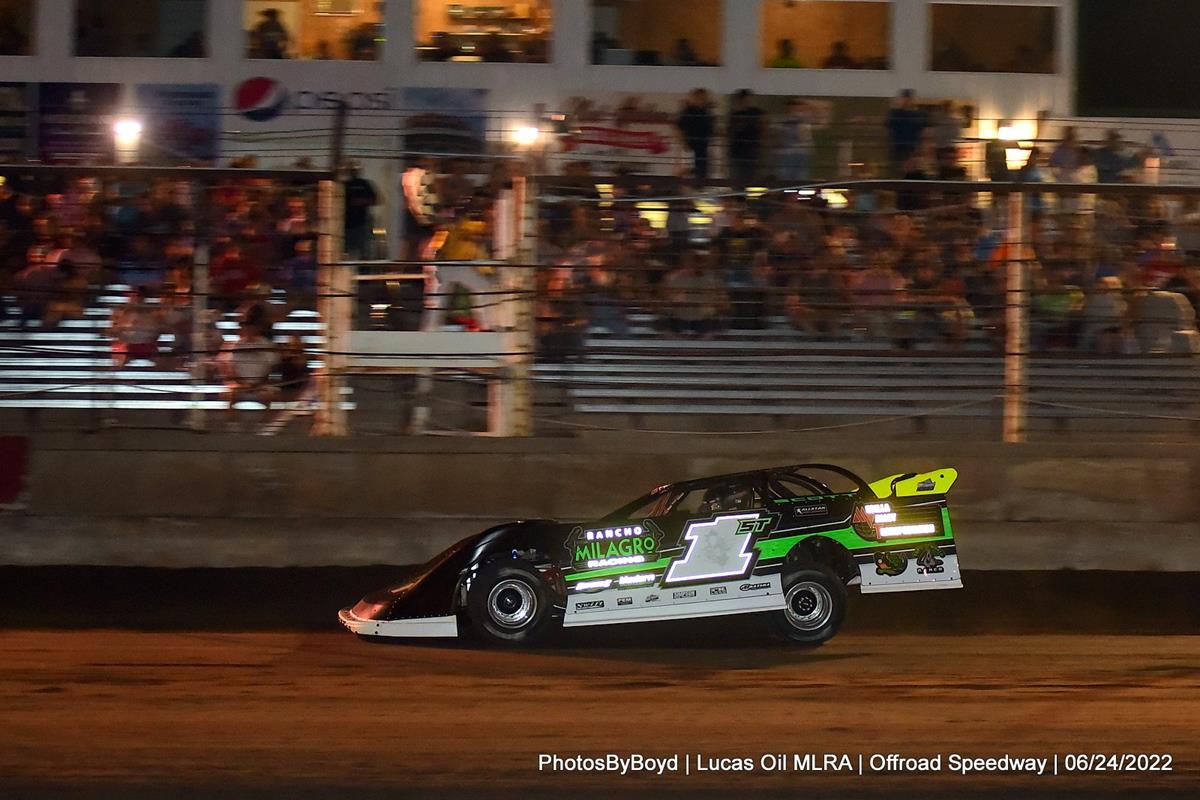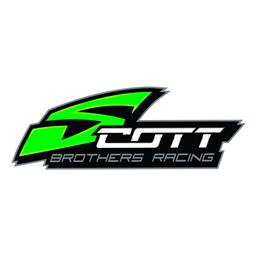 6/25/2022
---
Johnny Scott tops Renegade 50 opener at Off Road Speedway
Johnny Scott raced to his fourth win of the 2022 season on Friday night aboard his Rancho Milagro Racing No. 1st Mesilla Valley Transportation/ Longhorn Chassis/ Clements Racing Engines Super Late Model. (Todd Boyd photo)
The victory came in Lucas Oil Midwest Late Model Racing Association (MLRA) competition at Nebraska's Off Road Speedway. With the win he also extended his advantage atop the latest series' standings.
"Apart from my back injury (non-racing related) back in April, our year has been going good, so we're just going to keep at it," Scott noted. "We got past (Justin) Zeitner with a slider around the halfway mark Friday night. I knew that was going to be my best chance to get to the lead. It was definitely an up on the wheel race track, and as always it feels great to get to Victory Lane.
"We were pretty good on Saturday night too but we caught some body damage from a spinning lapped car, and it ripped the whole right side off of my car, and after that I was just kind of hanging on. Before that happened, I think we had a car to win it, but congrats to Chad (Simpson) he did a hell of a job. I got under him that one time and could have probably slid him, but it wouldn't have been clean, so I just backed off and settled for second. Sometimes that's just what you've got to do."
On Friday evening the opening round of the two-day Renegade 50 came to life with the Lucas Oil MLRA Super Late Models at Nebraska's Off Road Speedway. Johnny locked his spot into the preliminary feature with a heat race triumph.
Overtaking early leader Justin Zeitner on lap 14, Scott stormed to his fourth win of the season ahead of Zeitner, Chad Simpson, Kolby Vandenbergh, and Tad Pospisil. He pocketed $3,000 for his winning performance.
In Saturday night's program Johnny finished third in his heat race before passing six cars in the 50-lap finale to finish second. He trailed Chad Simpson to the checkers with Justin Zeitner rounding out the podium.
On the heels of his weekend consistency, Johnny continues to lead the latest Lucas Oil MLRA point standings.
Meanwhile, Friday night found Stormy Scott in action with the World of Outlaws Case Late Model Series at Tri-City Speedway (Granite City, Ill.).
Drawing 46 WoO entries for the two-day St. Louis Firecracker Faceoff, Stormy followed up a sixth-place finish in his heat with a fourth-to-first run in his B-Main. With $10,000 on the line in the feature, Scott was an early retiree on lap 14. He was credited with a 25th-place finish.
On Saturday, Stormy logged a 10th-place finish in his heat, relegating him into the B-Main for one last shot at the $20,000-to-win finale. Taking the top-three to the main event, Scott passed 10 cars but fell short with a sixth-place outing.
For full results from these events, please visit www.MLRARacing.com and www.WorldofOutlaws.com.
Johnny Scott will lead the Lucas Oil MLRA contingent into battle this weekend – July 1-2 – with an Iowa doubleheader. Action opens on Friday with a $5,000-to-win program at CJ Speedway (Columbus Junction, Iowa) as the tour makes its debut at the facility. On Saturday night the 14th annual Slocum 50 will be held at 34 Raceway (Burlington, Iowa), which posts a $10,555 winner's check.
Back to News