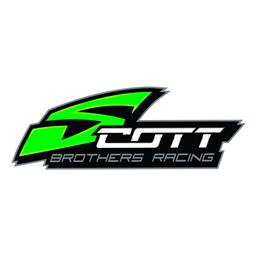 7/14/2023
---
Johnny Scott Crosses 12th And Stormy 15th At Ponderosa With World Of Outlaw Late Models
JUNCTION CITY, Ky. (July 18, 2023) On track on Friday, July 14, at Ponderosa Speedway with the World of Outlaws CASE Construction Equipment Late Model Series, Johnny Scott crossed 12th in the A-Feature, while Stormy landed 15th.
Keeping pace around the same position throughout the A-Feature, Johnny bounced from 13th, to 11th several times before retaking the 12th spot with two laps to run.
For Stormy, the move to the A-Feature came with a win in the Last Chance Showdown after missing the Heat Race transfer by one. Putting the No. 2s 17th on the field, the final run was a 15th place finish.
The next night at Brownstown was rained out.
For continued updates, news, and information on Johnny and Stormy Scott, log onto https://www.scottbrothersracing.com.
Back to News